A taste of Tapenade​ - Our partnership with Tapenade
One of the most exciting parts about The Corporate Festival Company recently joining the Eventist Group, is our partnership with Tapenade, previous winner of the Event Caterer of the year award. Tapenade has spent over nineteen years providing events with exquisite menus and unforgettable food, building up an unbeatable reputation as a high-quality and versatile supplier with the ability to please all audiences, regardless of the size of the event!
One of the reasons Tapenade has been so successful, winning over clients such as Lush, Sony, M&S, Sky Media and more, is due to the fact they are constantly mixing up new and innovative ideas, striving for perfection and the consistent satisfaction of their clients.
Last week, to kick off our bidding season in January and get well-prepared for the summer of events ahead of us, we had our first food tasting for an exclusive client up at our new head office. We were extremely impressed with the versatility of their menu, which could be adapted and suited for any style of service, whether that be formal, sit down fine-dining or more of a casual street food style.
Here were some of our favourites that also covered off every dietary requirement out there!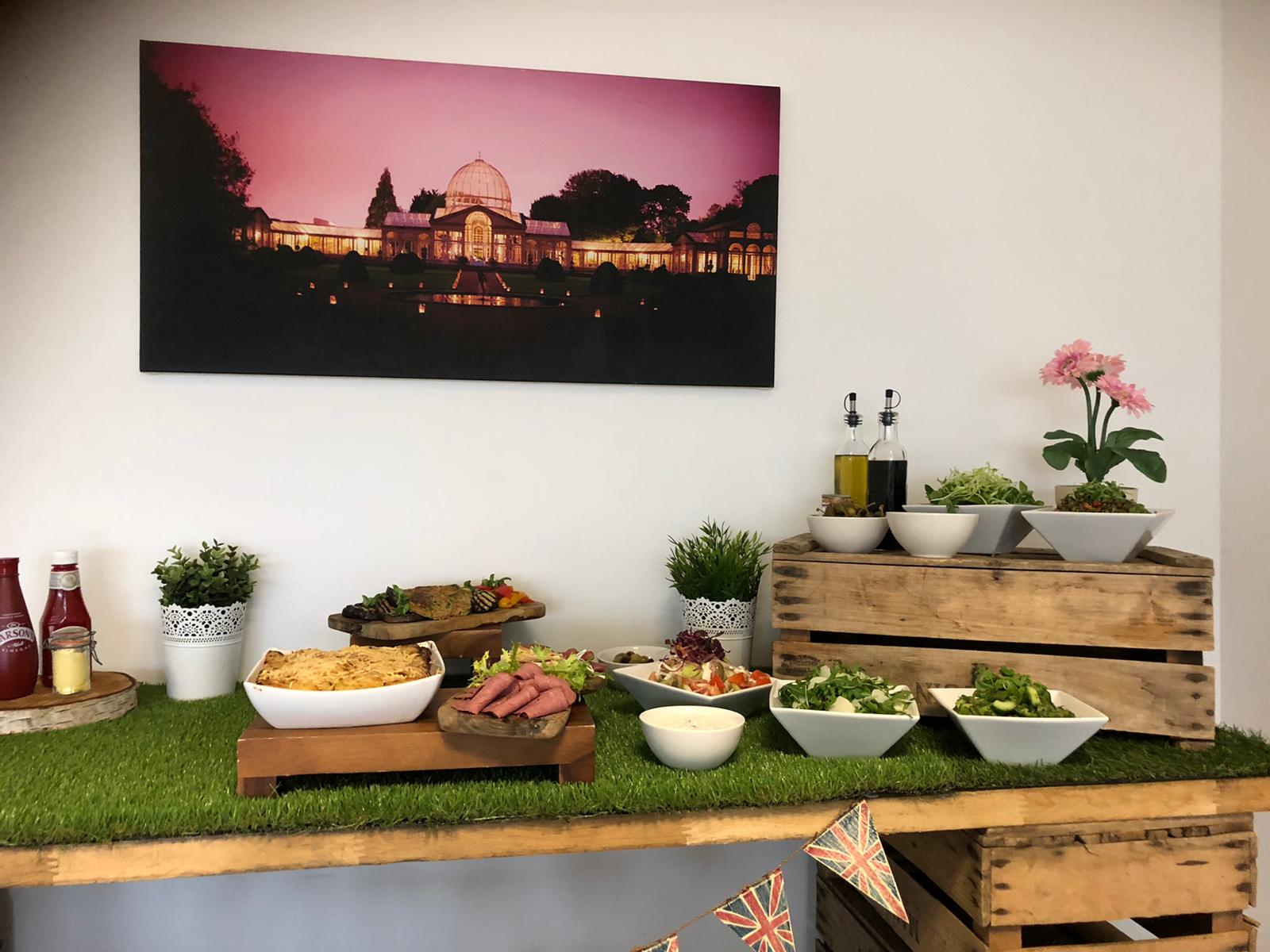 Sample Platter Menu
We kicked things off with a sample sharing platter, displaying a wide selection of nibbles to include grilled courgettes, chorizo, carrot and cumin pancakes, homemade hummus and tzatziki to dip flavoured warm breads into. There were marinated olives, baby gherkins, quinoa salads and don't get me started on the potato gratin (we haven't stopped thinking about it since we left).This platter screams a summer event when it's roasting hot, you're having a few drinks and just fancy having a little pick to keep you going. It's colourful, fresh, and healthy but fulfilling and you can have as little or as much as you like.
Viality Stand
I've never fully understood why people put fruit in a salad; for me it's like putting pineapple on a pizza or raisins in chocolate- just out of place on so many levels. I have to say in this instance however, I was proven wrong. The sweetness from the pomegranate in two of the vitality dishes balanced out beautifully with the saltiness of the feta and gave the kale and extra little something to make the flavour pop.
Tapenade have quintessentially made healthy eating exciting in a festival environment, with so many different elements combined in their dishes from nutritious seeds and fruit, veg and glistening dressings, that even the biggest carb-lover would enjoy them!
Point and Flat
Fall apart, melt-in-your-mouth, delicious British brisket, served in a London bun with either pickled red cabbage, Smokey chipotle or ancient Shrewsbury sauce (the Shrewsbury was our personal favourite). Switching up a standard roll with the bun and a burger with the brisket adds something special to the point and flat; something a with a bit more class and finesse. The Moving Mountain burger, an absolute favourite amongst vegans and veggies everywhere, is on the cards for the non-meat eaters and, as usual, it did not disappoint.
Nachos
Nachos are obviously not a main meal, but we couldn't not write about Tapenade's nachos because they were just so delicious. They cut the crisps, which are made from tortilla, into large pieces which are somehow soft but crispy at the same time when you bite into them. The guacamole on top is creamy and the salsa tastes fresh. These nachos really put standard supermarkets nachos and dip to shame.
The Paella Station
One of the best-known dishes in Spanish cuisine. Go for a classic chicken and chorizo or a vegan version loaded up with colourful veg (halloumi can also be added for the vegetarians). All versions served with crusty bread, butter and fresh lemon to squeeze on top.
Fish 'n' Chips
The Great British favourite – freshly battered on the day cod, skin on fries and mushy peas, with salt, vinegar and tartare sauce to taste. For the vegans and vegetarians out there the chefs have created their own unique way of re-creating the fish element of the dish- one I've never preciously come across in all my years of a vegetarian. Tofu is wrapped with seaweed to withhold that fishy, salty flavour, before being deep fried in vegan ale to be cooked to perfection.
Something refreshing was that unlike most fish and chip stores, the food wasn't overly oily or stodgy, so it doesn't sit in your stomach and bloat you out for hours to come.
Pie Stack
Who doesn't love a pie? I think it would be fair to say that these taste tantalising pies melted in my mouth and were the best we've seen on the market. I've never personally sampled a cauliflower and leek combo in a pie before, but it is definitely something I'll be trying at home. The pastry was perfectly flaky and crisp, the filling warm and creamy and top it off, they are served as adorable mini pies to make them easier to delve into in a standing environment.
For the meat-eaters a British steak and meantime pale ale pie is the option. Both come with smoky potato mash and peas. It doesn't get more British than that!
As well as the paella and British classics, we also tried some delicious Mexican and Asian cuisine, with Tapenade's personal spin thrown into each dish. The street food options are served in eco-friendly packaging with wooden forks, ensuring that the brand are minimizing their carbon footprint in an industry which has the potential to cause a lot of damage to the environment.
Thank you team Tapenade, not only was this a really enjoyable afternoon, but you really provided us with a lot of insight into how to deliver high-class street food professionally prepped in a festival arena!
Tapenade cater for everyone from corporates and private parties to weddings, international air shows and global events and they are more than willing to adapt the menu and service style to make it exactly as their clients envision. To see more of what they do, see their menu or get a quote for your upcoming event, please take a look at their website: